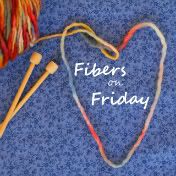 I've picked up the prayer shawl again with the hope of finishing it before wandering to of my other WIPs. This James Brett "Marble" yarn is so nice to touch and knit. This is my first experience with it and I quite enjoy it. Fortunately, I have another ball of it in tans and brown for a prayer shawl that I might use to crochet a triangle shawl. The current pattern is the
Bernat "Mosaic Wrap"
though I plan to omit the pom poms.
What are you creating?